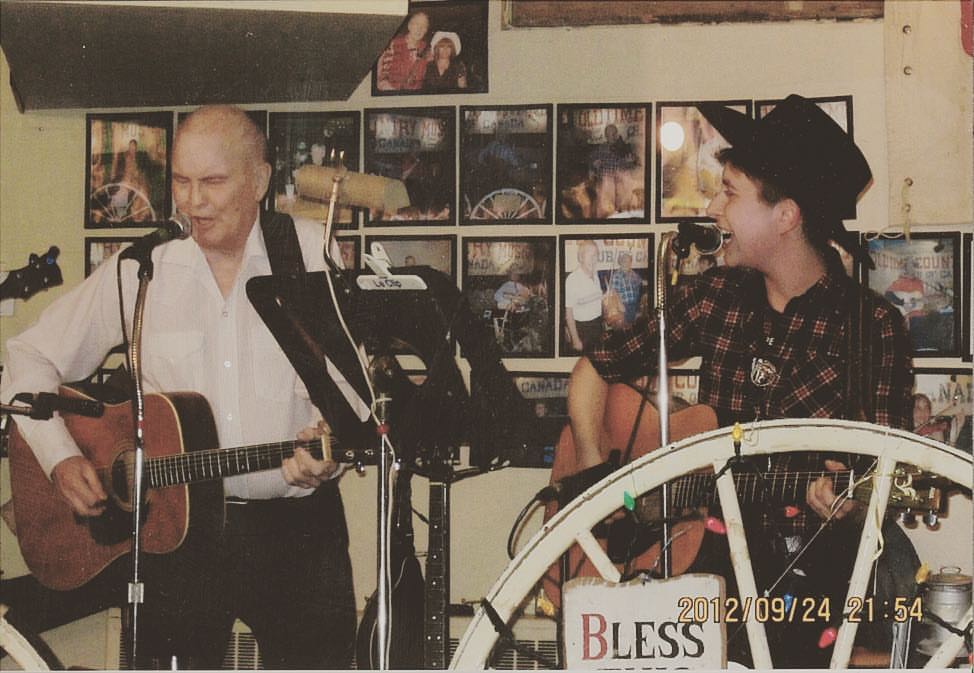 It is with much love that I share this track from my upcoming album, penned by a dear mentor and friend, Bobby Hill.
June 18th 2015 I was beginning a songwriting workshop with Mary Gauthier in Nashville, Tennessee. During the first few hours of the workshop I got the news from home that Bobby Hill had passed away. When I returned to the room after crying and smoking outside, Mary Gauthier and the rest of our group listened and sang with me on the choruses as I played Bobby Hill's composition. Written in the 1970's but never performed or recorded, he had shown and then (in his own words) 'given to me' a year earlier, "Welcome To The Real World Again".

Bobby Hill was a consummate songwriter, musician and performer in his hay day. His song "The Saga of Maurice the Rocket Richard" was a national hit. He paved the way for Canadian country music radio during the 1950's with the CFCF Hometown Jamboree and the Bobby Hill Show on CJAD, with Ron Scott and the famed fiddler Jean Carignan at his wings. In the 70's and 80's he performed as a solo act at Jewish events and parties. He also earned a PHD in history and started the teacher's union at John Abbott College. In the 90's Bob won the Gem of Canada Porcupine Award for his CD "Bobby Hill Radio Days – Groundbreaking performances from the Golden Age of live radio." Bobby Hill survived decades of prostate cancer and wrote a memoir about it – Born in Twin Butte Alberta into a Mormon community, but abandoned that religion as a young man, because he didn't agree with their conservative views on interracial marriage.
I met Bobby Hill at the Wheel Club in Montreal on Hillbilly Mondays where he played lap steel and dobro in the country bluegrass house-band. His intonation was astounding and he could bring you to tears with those swelling melodies and twangy Hawaiian tinged riffs. The first several times I performed there I admired Bobby Hill from a distance, unsure of whether this stoic and legendary character would appreciate me buzzing around him. One night I had just finished playing Woody Guthrie's "Jesus Christ" and Bobby Hill beckoned me to his corner of the stage and let me know that the song had originated from one of the oldest folk songs around, "Ballad of Jesse James". The next week I arrived at the Wheel and Bob had printed out the lyrics of Jesse James to give to me. I asked him for more song suggestions and he came back the next week with many more printed out lyrics and mixtapes he had made of country hits that he thought would suit my voice specifically. I later found out he had made mixtapes for a few other performers at the Wheel as well. There was no shortage of generosity when it came to his profound knowledge of music, if you had the ears to listen.
Bobby recorded on my song Loving You is Wrecking Me from my first EP. He stood up to sing duets with me at the Wheel, which no one had apparently witnessed in years! We drove out to the country and played together at the monthly honky tonk jam in an old schoolhouse off the 138. He'd sometimes e-mail me to have early morning breakfasts with him at Tim Hortons, or give me advice over the phone about showmanship and personal matters. Bob was always compassionate and respectful – a true friend.
I miss him. I know that his family misses him and the audience members and musicians at the Wheel Club miss him. I have had the pleasure of meeting two of his daughters and spending time with his kind and caring wife, Prunella, who wanted me to have Bob's songbooks, and his Guild guitar and strap, which I used to record on most of the songs on my new album. I cannot thank her enough for letting me hold on to these precious things of his. I am also so thankful to James McKenty, Chris Altmann and Eddy Blake Eaton for helping to bring this sad and beautiful song to life in a way that I know would make Bobby proud.
Written by Robert (Bobby) Hill 1932-2015
Recorded and mixed at James McKenty Recording (Peterborough, On)
Upright bass recorded at David Carmichael's Studio (Montreal, Qc)
Mastered by Harris Newman at Grey Market Mastering
Bobby Dove – Vocals, Acoustic guitar
James McKenty – Back up vocals
Chris Altmann – Pedal steel
Eddy Blake Eaton – Upright bass