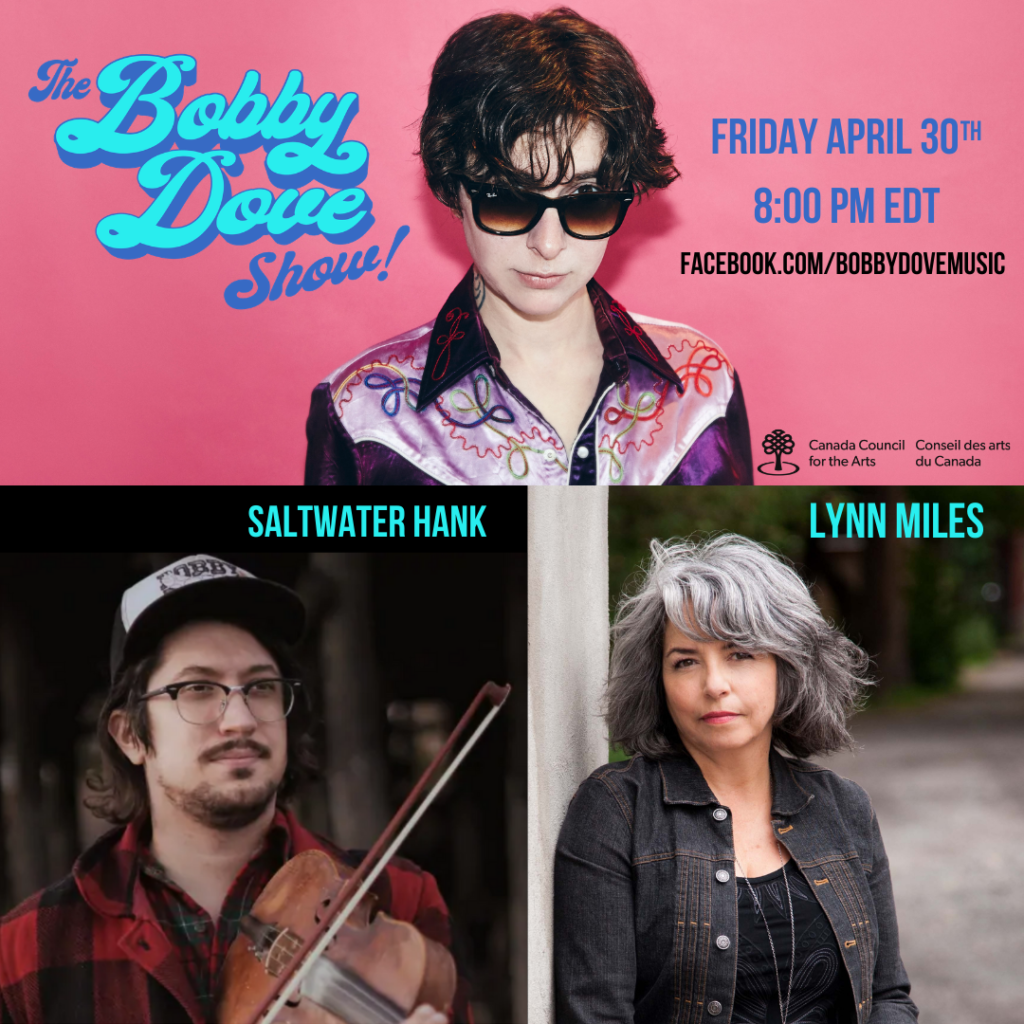 Event Link: https://fb.me/e/ZyHWUjgf
The Bobby Dove Show PREMIERE! Friday April 30th at 8:00 pm EDT
Featuring Juno Award winning singer-songwriter Lynn Miles, with Tsimshian folk artist Saltwater Hank, and your host Bobby Dove performing songs off their new album Hopeless Romantic (2021).
Livestream on the Bobby Dove FB page http://facebook.com/bobbydovemusic The recorded show will be posted later Youtube and on http://bobbydove.com
A virtual tip-jar will be split amongst the performers:
paypal.me/bobbydovemusic
(please Add a Note: BD Show ) Thank you!
The Bobby Dove Show is inspired by The Bobby Hill Show (1950's Canadian radio), The Porter Wagoner Show, the Johnny Cash Show and other old time Country music revues. With the intention of presenting great Country/roots songwriters and musical artists from across Canada, in a safe and fun way during the pandemic. Stay tuned for future episodes!
We acknowledge and are grateful for the support of the Canada Council for the Arts | Conseil des arts du Canada!
The Bobby Dove Show acknowledges that Indigenous peoples are the traditional guardians of this land that we call Canada; that this land is everywhere unceded. We are live-streaming from the traditional homelands of the Dakota, Anishanabek, Oji-Cree, Cree, Dene and Metis peoples on Treaty 1 and 2 territory; on the unceded, unsurrendered Territory of the Anishinabe Algonquin Nation and on unceded territory of the Tsimshian nation.
A donation is being made from The Bobby Dove Show to the Brandon Friendship Centre, which develops programs and support services to meet the needs of Indigenous people, and the community as a whole, on Treaty 1 and 2 Territory in the City of Brandon, Manitoba.
https://brandonfriendshipcentreinc.ca