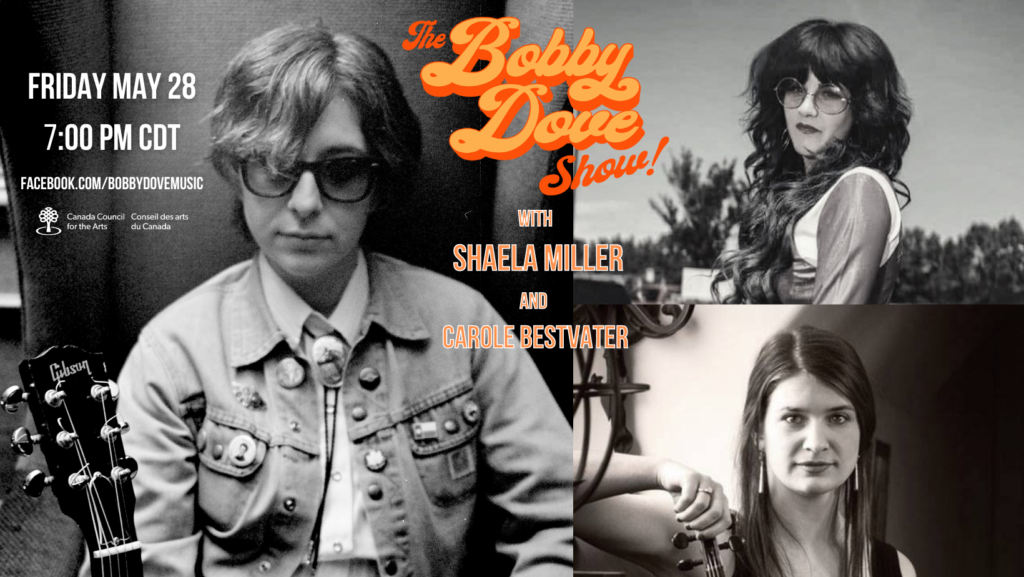 The Bobby Dove Show! EPISODE 2 Friday May 28th at 7:00 pm CDT (5PM PDT, 6PM MDT, 8PM EDT, 9PM ADT)
Featuring Windy City singer-songwriter and honky tonk queen, Shaela Miller, as well as the super talented and luminous fiddler/violinist Carole Bestvater, hailing from Newfoundland! And your host Bobby Dove, performing songs off their new album Hopeless Romantic (2021).
Livestream on the Bobby Dove FB page http://facebook.com/bobbydovemusic and link will be posted in the event! The recorded show will be posted later on http://youtube.com/bobbythedove and on http://bobbydove.com
A virtual tip-jar will be split amongst the performers:
paypal.me/bobbydovemusic
(please Add a Note: BD Show ) Thank you!
The Bobby Dove Show acknowledges that Indigenous peoples are the traditional guardians of this land that we call Canada; that this land is everywhere unceded. We are live-streaming from the traditional homelands of the Dakota, Anishanabek, Oji-Cree, Cree, Dene and Metis peoples on Treaty 1 and 2 territory; on the territory of the Siksikaitsitapii (Sik-si-kay –tsida-be) Blackfoot Confederacy, comprising the Kainai, Piikani, Amskapiipikani and Siksika First Nations, and on the ancestral homelands of the Mi'kmaq and Beothuk, the Inuit of Nunatsiavut and NunatuKavut and the Innu of Nitassinan.